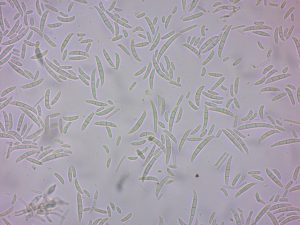 We offer Phytophthora, Pythium and Fusarium analyses for soil, compost, water, roots, growing medium and plant material. 
Handling of samples:
Place samples in a Styrofoam (preferably) or sturdy cardboard box (with cool brix/icepacks if possible).  The plants can be lightly wrapped in dry paper towels/newspaper/brown paper bags.  Do not add any water.  Place these wrapped samples in a plastic bag.  Deliver as soon as possible (overnight).  
NB: Include a completed submission form and attach it to the outside of the bag.  Do not mix different samples (i.e. blocks, treatments etc., keep separately).